Audubon Park Historic District



A close-up from: Map of the City of New York North of 155th Street showing the progress made in laying out streets, roads public squares and places by the Commissioners of Central Park Under Chap 565 of Laws 1863 and of New Pier and Bulkhead Lines under Chap 695 of Laws of 1867.  Compiled and drawn by Edward S. Ewen. Entered according to Act of Congress in the year 1873. by Edward S. Ewen in the office of the Library of Congress at Washington.

You can see the footprint of Audubon Park.  155th Street is at the bottom (south) of the map and 158th at the top (north).  Neither 156th nor 157th Street intrudes.  Branching off of the Boulevard (Broadway) and cutting across one corner of Audubon Park is the Boulevard Lafayette. The houses sit well apart from each other, surrounded by spacious lawns and drives.  The Grinnell name stretches across all of Audubon Park except the original Audubon houses close to the Hudson (left). That disposition of property would prove to be a determining factor in the path Riverside Drive would take through Audubon Park. Note that the property facing 158th Street is regularly lotted, whereas the rest of Audubon Park consists of large and irregular plots.

...at about 156th Street near the present Broadway, there stood until about 1870 a great white gate with two large wooden gateposts [black star at left], and every night this gate was closed.  This carried the idea of privacy and may have had something to do with the title "park" which had long before been applied to the tract.

George Bird Grinnell

Audubon Park

1927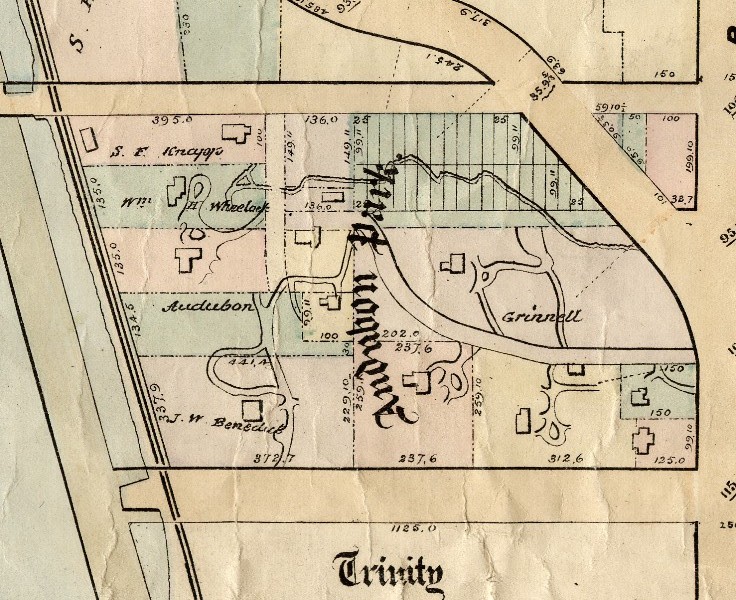 Detail from City of New York North of 155th Street Map 1873

Map Index:

City of New York 1873