Audubon Park Historic District


Detail from Bromley Map 1897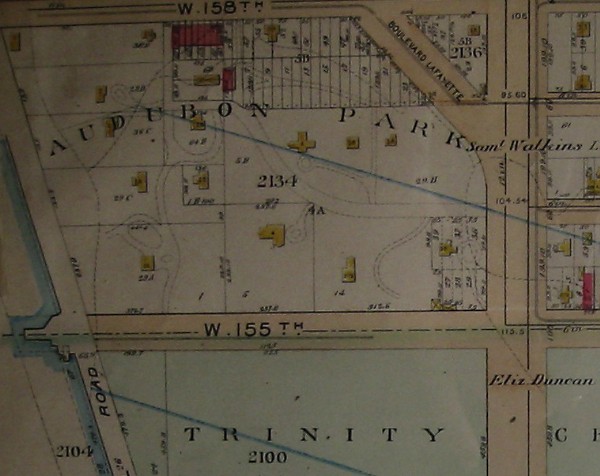 Audubon Park's borders remained virtually intact throughout the second half of the 19th Century.  Boulevard Lafayette crossed the northeast corner, but neither 156th and 157th Streets intruded and Riverside Drive was still a decade in the future.  The grid that the City Commissioners had plotted in the first decade of the century had not imposed itself on Audubon Park and, in fact, never would.

Inside its borders, however, Audubon Park had grown by 1897.  On this map, east of the Hemlocks (marked with a white star) are two new houses, one of which George Blake Grinnell probably built for his daughter Laura and her husband, Newell Martin, who lived in Audubon Park after their marriage in April 1886 until some time after 1905, when they and their three children and five servants appeared on the New York State Census.  Facing north, on 158th Street, is a new group of row houses (marked with a white circle); more will appear in the next decade.  At 620 West 158th Street is the Daniel Miller house (white triangle); Miller's eldest daughter had married Jay Gould.  SItting behind and between these new structures was another occupying the western most lot of  20 laid out to face 157th Street.  

Dividing part of Audubon Park into lots for row houses became a bone of contention among the various Grinnell siblings, a dispute that eventually ended in court with a partition settlement.  Apparently, the Martins and WIlliam Milne Grinnell favored dividing the property into lots for row houses, while George Bird Grinnell (perhaps supported by his sister Helen Paige), favored develping the property with apartment houses. Ultimately, they did neither.  Instead, they sold the land to developers who erected the apartment houses that exist today.