Audubon Park Historic District


Detail from Bromley Map 1879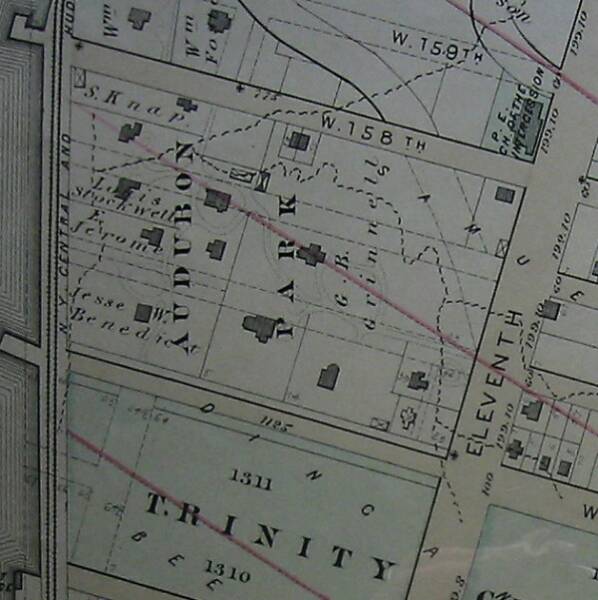 George Blake Grinnell retired on September 1, 1873, turning his business over to his son, George Bird Grinnell.  Sixteen days later, the stock market collapsed in the Panic of 1873, and by October, George Bird Grinnell and Co failed as well.  George Blake Grinnell, a silent partner in the firm, came out of retirement to help settle affairs and then retired to Audubon Park again, this time spending the remainder of his life expanding his real estate holdings.

As you can see from this map, by 1879, Grinnell owned approximately two-thirds of Audubon Park, but not the lots closest to the river. This division would  have a direct effect on the path of Riverside Drive, which would run along the western border off the Grinnell holdings, as well as the future of the Aubudon houses - particulalry the original one that Audubon had built for his wife, Lucy.  Cut off from the rest of Audubon Park, the houses suffered decay.  After several decades as multi-family dwellings they finally gave way to new construction.  The apartment buildings numbered 765 and 775 Riverside Drive (built in 1932) and the towering Riverside Terrace (constructed in the 1960s) now occupy that area.

Banching off of Eleventh Avenue (by then known as as Boulevard, and today named Broadway), is the outline of the future Boulevard Lafayette, which became part of the Riverside Drive extension in 1911.