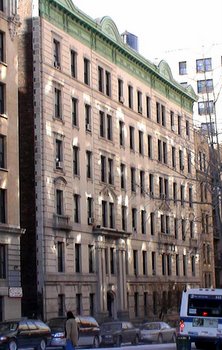 Audubon Park Historic District



The Hortense Arms, which cost $150,000 in 1910, is a six-story Beaux arts structure with a central courtyard that is not visible from the street.  The architects were Neville and Bagge, who designed the Cortez, which you saw across from Nuestra Señora de la Esperanza in 156th Street.  You will notice some similarities between the two buildings.  The base is rusticated granite, matching that on the Grinnell, on your side of the street.  As with earlier buildings you have examined, the Hortense Arms has ornamental balconies and large keystones over the windows.  Like the Cortez, a linkage between the doorway and windows above create the illusion of a grand entrance.  Here, two-story coupled Doric pilasters flank the entry and rise above the ornamental iron doors where they support a cornice at the second floor, which in turn, supports double windows surmounted by a pediment appear. Notice the shell detail under the cornice.  At the roof, arches in the projecting metal parapet complement the pediments at the third floor and, more practically, mask elevator equipment water tanks on the roof.  The Hortense Arm's ironwork fence, with its fleur-de-lis design, is original; the fence around the Grinnell is a later addition.

The marriage of Miss Belle E. Zimmern, daughter of Mr. and Mrs. Simon Zimmern of 602 West 157th Street, to Mr. Martin Wortmann will take place tomorrow evening at the Hotel Savoy.

New York Times

December 4, 1910

To Me the Building Was Lovely,

So I Bought It

I bought the building for love, even though in the beginning I did expect to make money. I was already the owner of five small but profitable brownstones. It seemed to me I was ready for bigger game...The brutal truth was that one of us -me or the tenants - could afford to run the place. Taxes, insurance, payroll, mortgage payments, and above all fuel and repairs, simply exceeded the total of everybody's rent....It finally did. For a spectacular dollar loss, which I was grateful to absorb, I sold the place. The tenants said they were sorry to see me go. ''Everybody said you were really nice,'' one told me. Much obliged, I say. But so much for buying buildings. I have gone on to become a writer.

John Foreman

New York Times

December 13, 1981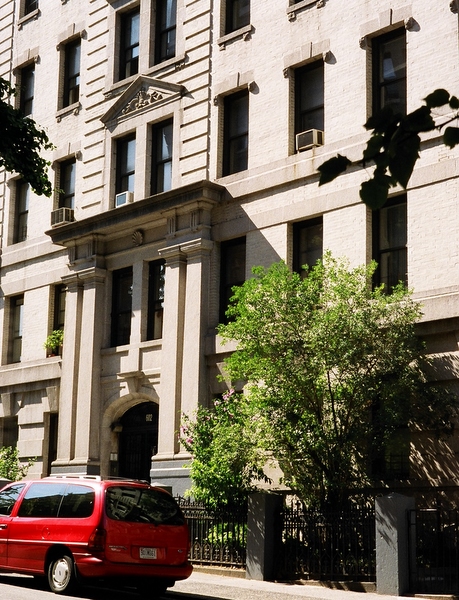 Hortense Arms (602 West 157th Street)