Boulevard Lafayette circa 1895

(click to enlarge)

Edward M Morgan, Postmaster of the New York Post Office, died at 1.50 o'clock this morning... following an operation for appendicitis performed there Monday night.  He was 69 years old...When President Roosevelt appointed Mr. Morgan Postmaster of New York City in August, 1907, he satisfied the life ambition of a man who had assiduously devoted himself to the postal service since he entered it as a letter carrier thirty-four years before.  So far as records indicate, Mr. Morgan was the only man to rise from postman to Postmaster in this city...

New York Times

January 19, 1925

Name of Audubon Place changed to Edward M Morgan Place - Bd.of Ald. Ord.  Resolution, etc. 1926, p. 53

Card Catalogue

31 Chambers Street Library

The views from the [Boulevard Lafayette] are superb.From its retaining wall and western edge a precipitous woody and rocky hillside descends to the river edge, along which wind the tracks of the Hudson River Railroad. Then the waters of the Hudson River, at this point about a mile wide, extend to the Palisades, which rise from three to five hundred feet, a most impressive feature and one which is to be hoped will soon be protected by legislation from destruction by blasting.

Scientific American

January 26, 1895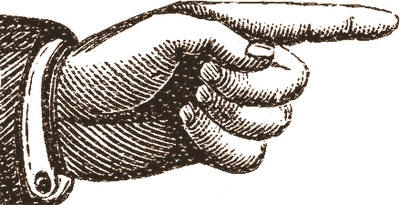 Edward M. Morgan Place: 1936

(click to enlarge)

Edward M. Morgan and Airmail

(click to enlarge)

Broadway and Edward M Morgan Place

Before the completion of the Boulevard (Broadway from Columbus Circle to 155th Street), plans were underway to extend it beyond northward to the top of Manhattan. Rather than a route along the line of Eleventh Avenue, the street commissioners branched it west at 156th Street and ran the roadway along the cliffs above the Hudson. That plan left a large, roughly triangular plaza here where you're standing. If you mentally subtract the small park and Broadway's median from the streetscape, you'll have an idea how that plaza looked.

A few years later, the city ran a new roadway north along the line of Eleventh Avenue and also called that street "the Boulevard," renaming the "old" Boulevard "the Public Drive." Although both roads appear on maps after the American Civil War, neither was usable along its entire route until the last decade of the Nineteenth Century, by which time the "Public Drive" had become the "Boulevard Lafayette."

You will remember from earlier in your walk that in 1897, the Grinnell family negotiated a compromise that brought the Riverside Drive extension across their property to meet the Boulevard Lafayette at 158th Street. When that plan was complete, the one-block stretch of the old Boulevard between 156th and 157th Streets became "Broadway" and the remaining block, between 157th and 158th Streets, became Audubon Place. In 1926, the city renamed that one-block-long street Edward M. Morgan Place in honor of the first postal employee to rise through the ranks from postal carrier to New York City's postmaster general.

In 1905, this triangle became a source of litigation between Grinnell's heirs and Adolf Lewisohn, who owned the adjacent property where the row of stores now sits along Broadway. The Grinnell heirs, operating as Lansing Company, had enclosed this triangle with a fence and built a shed on it, which they leased to the Rapid Transit Company. Lewisohn claimed an easement of light, air and access, and brought action because the shed interfered with his enjoyment of the easement. A crucial point in the case was that while the city had condemned 157th Street on either side of this little triangle, it had never condemned the triangle itself. The judge, citing various case-law, ruled in favor of Lansing Corporation. Reading the case is particularly enlightening because it cites names of some of the previous owners of the property and notes where specific buildings stood. For example, if you were standing here any time between 1853 and 1900, a barn belonging to John Dalley would be sitting where you now see a Boston Market,

****************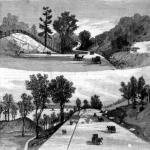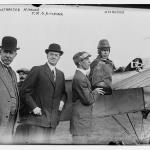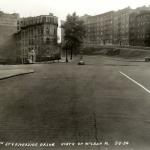 Funded by the Audubon Park Alliance